MT8 SL – A lightweight world champion brake with carbon lever

World champions put their trust in it!

The competition-proven MT8 SL is a true lightweight that doesn't compromise on performance.

Together with the lightweight Carbotecture SL® brake master, the new 1-finger HC carbon lever blade sets new standards in ergonomics and modulation.
Technical Details
● Scope of Use: XC, All Mountain
● Weight: 195 g
● Material Master: CARBOTECTURE SL®, Flip-Flop-Design
● Material Lever Blade: 1-Finger HC, Carbon
● Material Caliper: Aluminum
● Hydraulic: Yes
● Brake Fluid: Royal Blood (Mineral oil based)
● EBT(Easy Bleed Technology): Yes
● Banjo Fitting: Yes
● Pistons: 2
● Reach Adjust: Yes
● Flip-Flop: Yes
● Shift Mix: Yes (optional)
● Recommended Rotor: Storm SL.2
● Lever Blade: 1-Finger
● Tubing: MAGURA disctube
● eBike Switch: No
● Mounting: PM
● Colors: Carbon (Lever), Mystic grey (Caliper)
CARBOTECTURE SL
Developed for racing:
Thanks to the Carbotecture SL® brake master and the 1-finger carbon HC blade, the MT 8 SL is a real lightweight. Carbotecture SL® is a composite material that is not only light but also extremely resistant thanks to its embedded carbon fibres.
1–FINGER HC CARBON LEVER BLADE:
The popular 1-finger HC carbon lever blade is used on the MT8 SL ex works. It's lighter and stiffer than its aluminium counterpart, enabling you to get maximum performance out of your bike.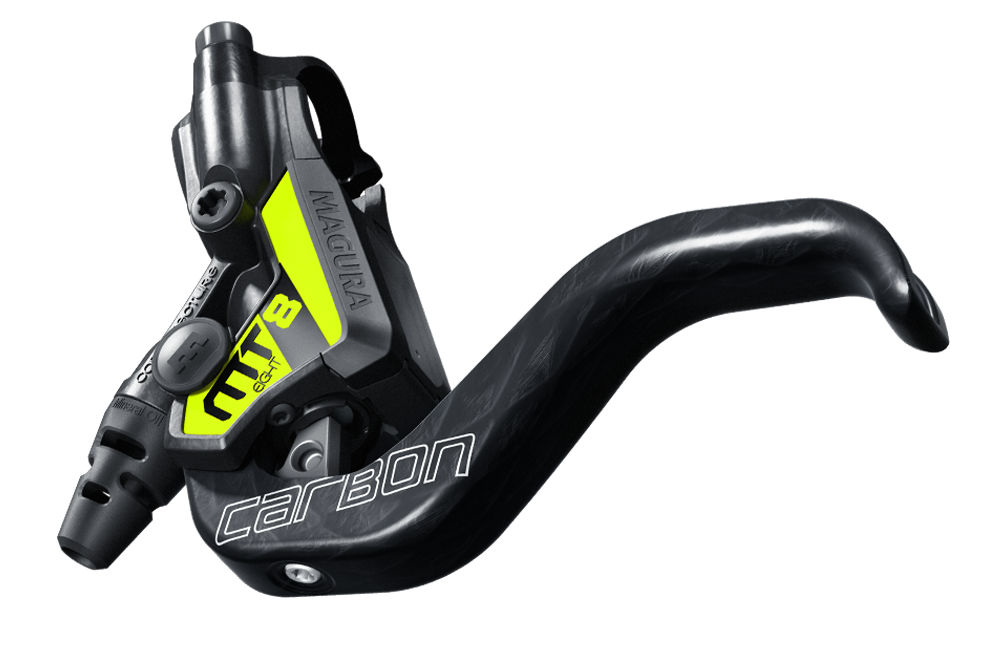 LIGHTWEIGHT PERFORMANCE
The 2-piston calliper of the MT8 SL is forged from one single piece.
The result?
Despite its outrageously low weight, the MT8 offers the highest braking power and stability of the 2-piston family.