This is MAGURA's top model for more demanding e-bike use.

With its powerful 4-pistons calipers, the MT5 eSTOP offers safe performance at high speeds, even on heavy e-bikes.
Technical Details
● Applications: E-MTB
● Weight: 255 g
● Material Master: CARBOTECTURE®
● Material Lever Blade: 2-Finger, Aluminum
● Material Caliper: Forged aluminium
● Hydraulic: Yes
● Brake Medium: Royal Blood (mineral oil based)
● EBT: Yes
● Banjo Fitting: Yes
● 4-Piston: Yes
● Reach Adjust: Yes
● Flip-Flop: Yes
● Shift Mix: Yes (optional)
● Recommended Rotor: MDR-C / MDR-P
● Tubing: MAGURA disctube
● eBike Switch: No
● Mounting: PM
● Colors: Black / Silver (Master), Black Anodized / Silver (Caliper)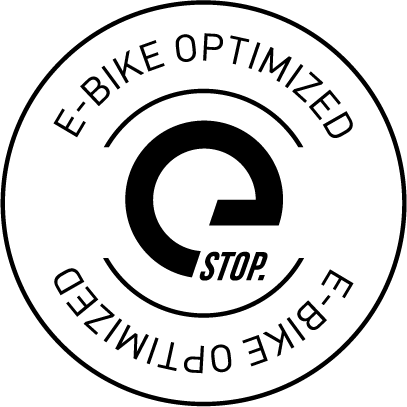 E-Bike optimized
The eSTOP system is based on the MAGURA MT features.
Due to the combination with SPORT brake pads and the MDR-C or MDR-P rotors it even offers higher braking forces and stability.
4-piston power
The 4-piston brake caliper forged in one piece offers outstanding braking force and stability.
Perfect for E-Bikes.